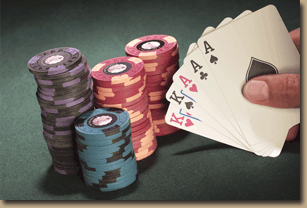 Five Card Draw is probably the most well known game as it is usually the first poker game that a person learns. Players will receive a total of five cards and their goal is to make the best five card poker hand. 5 Card Draw uses the standard poker hand rankings.
While it used to be the case that every player would ante in to a game of Five Card Draw, these days it is played with blinds, just like Texas Hold 'em and Omaha Poker.
Each player is dealt five cards, face down. The player to the left of the big blind will call, raise, or fold. Action then continues clockwise around the table.
After the first round of betting is over every player will have a chance to draw fresh cards. Players can choose to take no cards or can replace all of their cards. It is common in social games for a house rule to take effect which limits players to drawing three or less cards, but in casinos and poker rooms players can draw up to five cards.
This is followed by a second round of betting, started by first player with cards to the left of the dealer button. Action continues clockwise around the table.
The player with the best five card hand wins the pot. If two players have the same poker hand, then the pot is split equally. The button moves one position to the left, blinds are put in by the new players, and play continues.