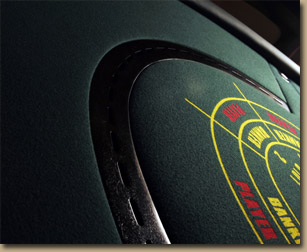 Baccarat is considered one of the oldest card games ever played, and is still enjoyed all over the world today. The word "baccarat" is an Italian word - hence its origin, which means "zero". There are a few different variations of the game as a result of its evolution over the centuries which include American baccarat, chemin de fer which is a French version, and baccarat banque, which is played with three decks in a shoe. Other versions exist; however these three versions are the most commonly used. To better understand how to play this classic casino card game, begin by learning some of these basic rules.
Card Values and Bets
Usually played from a six-deck and occasionally an eight-deck shoe, baccarat has certain values for each type of card. The single digit cards are the most important, while face cards and 10's are not worth anything. Suits are irrelevant, Aces are worth 1, and cards less than 10 are worth face value. An important rule to remember for baccarat card values is that 15 and 25 are counted as 5. The three basic bets that can be made are called banker, player, or standoff, which is rarely used. The goal of the game is to bet on which hand you believe will have the highest total value.
Player's and Bank's Third-Card-Rule
The Bank's and Player's third-card-rules are rules applied when certain circumstances arise. For example, a hand is over if the player or the bank has a total of 8 or 9 with their first two cards, or the player must draw a third card when their total is less than or equal to 5. The Bank has a significantly larger amount of rules. It always draws a third card when its total is 3 through 6 depending on the player's card values. Chemin de fer - the French version of baccarat, has different variations of these rules and the third-card-rules are especially different. Chemin de fer gives the Banker and the Player more leeway as to when to call a third.
Winning
The game of baccarat is all about chance. It is a hard game to win, even with the strategies available to increase your chances of winning. The expression "quit while you are on top" can definitely apply to this game. Many players choose to quit early on in the game to make a profit with the hopes of protecting that profit. The end goal of any game of baccarat is to get a hand with a value of 9 or as close to it as possible, and to bet on which hand you think will have the highest total. These basic rules apply to most games you will play; however be aware that each aforementioned version follows different rules and the various casinos you play at may use different methods as well.