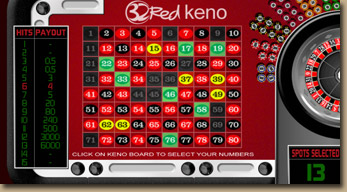 Keno is a lottery game played in many land-based and online casinos. 20 balls will be randomly selected out of a total of 80. Players want to match as many as possible, but it is of course a lottery game. There is no strategy.
Players can choose from 1 to 20 numbers on their Keno card, and the possible payout will change depending on how many are picked. It is almost impossible to hit 20 numbers out of 20 picked, but the higher number of spots picked the higher the possible payout can reach.
Online casinos will update the paytable in the game automatically as a player picks or unpicks numbers.