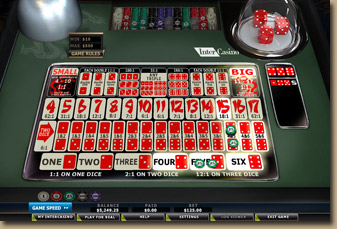 Sic Bo is a casino table game in which players bet on three dice. It's an old Chinese game now played worldwide in land-based and online casinos. Sic Bo literally means Precious Dice.
The table is set up with areas for players to place chips on, similar to Roulette. Each betting area is a possible outcome for the dice and the odds that will be paid out if the dice land that way.
The list of possible bets with the probability of hitting that bet:
Big: 48.6%
Small: 48.6%
Odd: 48.6%
Even: 48.6%
Specific Triple: .46%
Any Triple: 2.8%
Specific Double: 7.4%
Three Dice Totals
4 or 17: 1.4%
5 or 16: 2.8%
6 or 15: 4.6%
7 or 14: 6.9%
8 or 13: 9.7%
9 or 12: 11.6%
10 or 11: 12.5%
Specific Dice Combinations (2 out of 3 Dice): 13.9%
Single Dice Bet
Appears on one dice: 34.72%
Appears on two dice: 6.94%
Appears on three dice: .46%
The probability of hitting a certain outcome will always be the same, regardless of where you are playing, but the payout will usually vary slightly from casino to casino. Always check the Game Rules (they will be posted inside the game) when playing at an online casino, they will have a list of all the possible bets and the corresponding payouts.