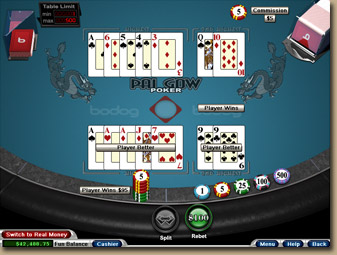 Pai Gow Poker is the westernized version of Pai Gow, a Chinese dominoes game. It is played with a standard 52-card deck, plus a joker. In regular Pai Gow Poker the joker can be used as an Ace or to complete a straight or flush.
The object of the game is to create two hands out of seven cards, both of which beat the dealer's two hands. One of the hands must consist of five cards and the other will be made out of the remaining two cards. The five card hand must have a higher value than the two card hand.
The five card hand uses standard poker hand rankings while the two card hand is either a high card hand or a one pair hand.
If both the player's hands beat the dealer's corresponding hands, the player wins. If the player wins one hand and loses the other, it's a push. If the player loses both hands, the player loses the bet. In each of the hands, if the player and dealer have the exact same hand, the dealer wins that hand.